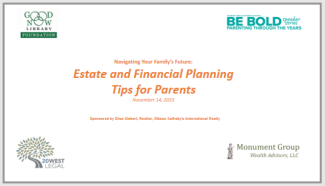 Goodnow Library Presentation
I enjoyed talking about Financial Planning for Parents at the Goodnow Library. Please find the link to the slides below.
Thank you to the Goodnow Library Foundation for hosting the Be Bold Speaker Series and to Elise Siebert, Realtor, Gibson Sotheby's International Realty, for sponsoring the event. 
I enjoyed working with Erica and Barbie of 20WestLegal!
Slides: Estate and Financial Planning Tips for Parents
Thank you -
Lee